Unconventional Medicine: Join the Revolution to Reinvent Healthcare, Reverse Chronic Disease, and Create a Practice You Love, Chris Kresser, Lioncrest Publishing 2017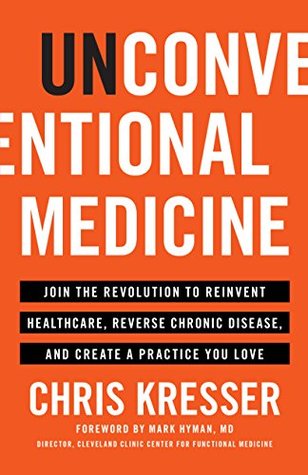 The world is facing the greatest healthcare crisis it has ever seen. Chronic disease is shortening our lifespan, destroying our quality of life, bankrupting governments, and threatening the health of future generations. Sadly, conventional medicine, with its focus on managing symptoms, has failed to address this challenge. The result is burned-out physicians, a sicker population, and a broken healthcare system
In Unconventional Medicine, Chris Kresser presents a plan to reverse this dangerous trend. He shows how the combination of a genetically aligned diet and lifestyle, functional medicine, and a lean, collaborative practice model can create a system that better serves the needs of both patients and practitioners. The epidemic of chronic illness can be stopped, if patients and practitioners can adapt.
Chris Kresser, M.S., L.Ac., is a renowned expert, leading clinician, and top educator in the fields of Functional Medicine and ancestral health, and the New York Times-bestselling author of The Paleo Cure. Listed among the 100 most influential people in health and fitness by Greatist.com, he was awarded "Best Inspirational Voice" and "Best Health & Wellness Website" by Paleo magazine in 2019. His latest book is Unconventional Medicine.
Co-director of the California Center for Functional Medicine, Chris founded The Kresser Institute in 2015 to provide the next generation of functional health practitioners and coaches with the skills and tools they need to turn the tide of chronic disease—and change the future of medicine. Through the Kresser Institute, Chris created and launched the ADAPT Practitioner and Health Coach Training Programs, and he and his team have trained over 2,000 health professionals around the world in his unique approach.
During a decade-long struggle with chronic illness, Chris learned first hand where health care mattered most—and where it came up short. After seeking the help of more than 30 healthcare practitioners and, ultimately, having to learn and implement behavioral change on his own with limited support, Chris emerged with his health—and a vision and drive for changing and improving the practice and education of Functional Medicine. You can read Chris's full personal story here.
As his legions of fans and avid readers can attest, Chris remains tireless in his efforts to share evidence-based insights from trusted sources and world-renowned health practitioners and coaches—through his blogs, guides, webcasts, interviews, and his podcast, Revolution Health Radio. He has appeared regularly in the media, including The Dr. Oz show and Fox & Friends, as well as top-rated health podcasts, such as The Broken Brain, The Doctor's Farmacy and The Ultimate Health Podcast.
Chris lives in Utah, with his wife and daughter