How to Be a Health Coach: An Integrative Wellness Approach Meg Jordan; Published August 29th 2013 by Createspace Independent Publishing Platform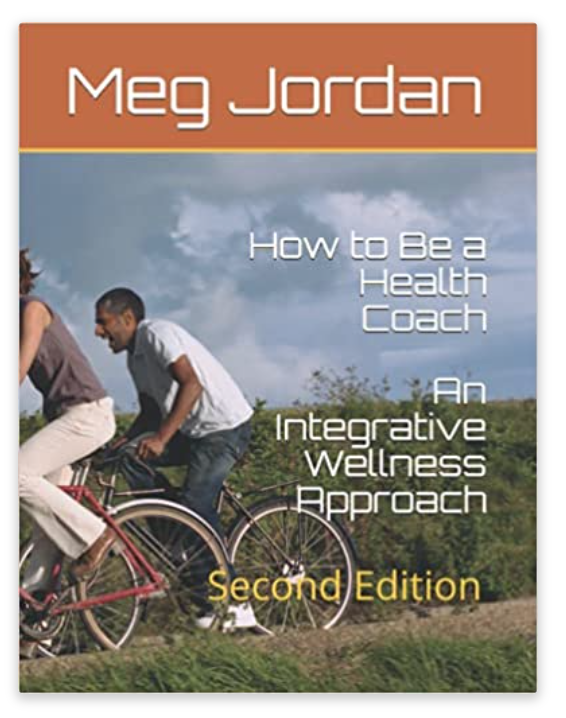 This manual offers the essentials of health coaching methodology, along with integrative wellness principles, theoretical frameworks, evidence-based models, coaching session formats, and practice tools. Readers also learn effective mind-body techniques to become extraordinary health coaches. This book is used in over 100 schools and training programs and in several countries. A comprehensive educational text for health coaching: a) Over 320 pages of updated models, guidance, theoretical frameworks, process skills and coaching tasks that are vitally important for professional health coaches. b) New guide sheet of healthy lifestyle information for preventing chronic disease.; c) Presents step-by-step guidance for the tackling the skills and knowledge outlined by the National Board for Health & Wellness Coaching including scope of practice, ethical standards and professional practice--lots of solid preparation for taking the National Certification exam; d) Templates for intake sessions, initial meetings, ongoing sessions, motivational interviewing sessions, and for closing the coaching relationship. Includes coaching agreements, several types of Wellness Wheels for your use with clients; e) Offers first-time, cutting-edge tips for addressing diversity, equity and inclusion for health coaches.; f) Advance your coaching knowledge and techniques with the latest information and research on the neurobiology of behavior change, stress physiology, emotional and social intelligence, Nonviolent Communication, mindfulness and dozens of holistic practices for improving self-awareness and self-efficacy.
Professor Meg Jordan, PhD, RN, CWP, is Department Chair of Integrative Health Studies and Somatic Psychology at the California Institute of Integral Studies in San Francisco, where her focus is preparing graduate students as catalysts for positive change in health care, wellness and health promotion. Dr. Jordan is a clinical medical anthropologist, an award-winning international health journalist, behavioral medicine specialist, RN, author, and President of Global Medicine Enterprises, Inc. She has combined clinical practice as a behavioral health specialist, and former director of Integrative Practice at the Health Medicine Center. She serves on numerous editorial review boards and professional membership boards including the National Wellness Institute and the Leadership Team of the National Consortium for Credentialing Health and Wellness Coaches, and the Health Medicine Institute. Her areas of expertise include integrative medicine, behavioral medicine, health promotion, wellness, and fitness. As a medical anthropologist, she specializes in the study of multidisciplinary models for integrative medicine (healing circles) and the emergence of health coaches as novel agents in health behavior change. In 2012 she received a grant from Aetna Foundation to bring a unique model of Integrative Wellness Coaching to public housing residents. She is Editor-in-Chief and founder of American Fitness Magazine, and author of several books, including The Fitness Instinct and the forthcoming Adventures of a Global Medicine Hunter. She received the Circle and Leadership Service Award and earned one of the first Certified Wellness Professional (CWP) standings from NWI. The M.A. program she revamped was recognized for Academic Excellence in 2011 by the National Wellness Institute. As a cardiac rehabilitation director, she helped establish the nation's first hospital-based wellness center in Los Angeles, and later, as a hospital trustee, at ValleyCare Health System in northern California. Dr. Jordan is former health news commentator for KTVU-San Francisco and was host of Global Medicine Hunter® radio and TV in US and Canada. She was a governor appointee, serving on the first California Governor's Council for Physical Fitness and Sports. She is a sought-after keynote presenter both in the U.S. and internationally. Her hobbies include racing sailboats on San Francisco Bay, music, film and hiking.